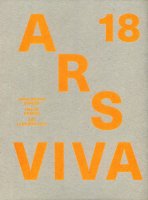 Anna-Sophia Berger, Oscar Enberg, and Zac Langdon-Pole
Since 1953, the Association of Arts and Culture of the German economy at the federation of German Industries e.v. has awarded the annual ARS VIVA Prize to young artists living in Germany, whose works are distinguished by their pioneering potential. This years recipients are fashion-trained sculptor and installation artist Anna-Sophie Berger (b. 1989), New Zealand sculptor Oscar Enberg (b. 1988), and Zac Langdon-Pole (b. 1988), also a New Zealand sculptor and installation artist. The prize includes two exhibitions at renowned art institutions in Germany and Belgium, the publishing of this awards catalog, and an artist residency on Fogo Island, Canada. As always, the catalog is a well-designed combination of installation shots and single images of the three artists' work along with essays by noted critics, curators and historians. This year's essays are by Simon Baier, Gürsoy Dogtas, Gregory Kan, Laura McLean-Ferris, and Hans Ulrich Obrist.
March 2018 / Softcover / Exhibition catalog
8 ½ x 11 in. / 128 pp / 35 color
ISBN: 978-3-95679-354-7
Retail Price: $32.00

STERNBERG PRESS, BERLIN
KULTURKREIS, GERMANY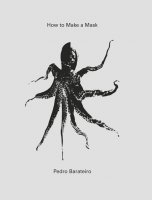 How to Make a Mask
Pedro Barateiro, João Mourão & Luís Silva (Eds.)
How to Make a Mask borrows its title from artist Pedro Barateiro's new performances that reflect upon the role of the individual within the sociopolitical situations of the collective through references ranging from psychological tests to the history of theater. By sharing the same title as his performance, the publication acknowledges the central role that this piece has attained in terms of understanding and articulating Barateiro's ongoing inquiry into what modes of being in the world we are able to (re)produce. The work was developed and first presented when social media started defining new forms of personal interaction, only to be further mediated by technology and interpreted by algorithms and bots whose sole purpose is to satisfy our immediate desires. After all these years, it is now apparent that these new forms of communication are easily manipulated, facilitating new ways of political control. Featured are Barateiro's own writings and extensive visual material, essays by Ana Teixeira Pinto and Anders Kreuger, and an epilogue by Pieternel Vermoortel and Els Silvrants-Barclay.
May 2018 / Exhibition catalog / Softcover
8 x 10 ¾ in. / 240 pp / Full b&w and color
ISBN: 978-3-95679-361-5
Retail Price: $34.00

STERNBERG PRESS, BERLIN
KUNSTHALLE LISBON, PORTUGAL