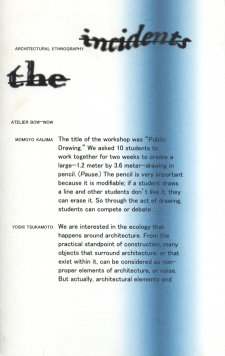 ATELIER BOW-WOW
When Yoshi Tsukamoto and Momoyo Kaijima of the forward thinking, Tokyo-based architecture and design rm, Atelier Bow-Wow, arrived at the Harvard University Graduate School of Design as guest professors in 2016, they challenged students to deeply consider their surroundings and record their reactions as a large pencil drawing. In this "public drawing," time is suspended and expanded; futures, presents, and pasts converge; and the act of drawing becomes an instrument of dialogue and engagement. The students unfolded their concept of an "ecology of livelihood," with shadowless gures, objects, and spaces that coexist with construction details. explaining their belief in the "behavioral capacities" of humans, architecture, and nature, Tsukamoto and Kaijima revealed the generosity of spirit in their work and the importance of pushing such capacities to their most yielding limits. The Incidents publication series is based on events that occurred at the Harvard University Graduate School of Design between 1936 and tomorrow.
January 2018 / Softcover / The Incidents series
5 ¼ x 8 ½ in. / 80 pp / 15 b&w
ISBN: 978-3-95679-348-6
Retail Price: $14.00

STERNBERG PRESS, BERLIN
HARVARD GRAD. SCHOOL OF DESIGN, MASS.